ArtSlam18+ is scheduled for April 12 beginning at 5:30pm, details to follow in 2018.
2015 Season: ARTSLAM+
with Guest Host Bart Vargas!
A Fundraiser for UNO Art Student Scholarships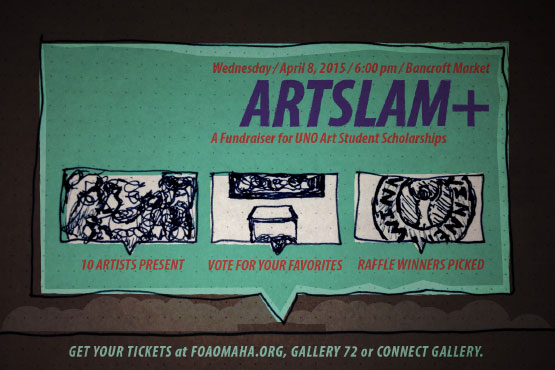 When: April 8, 2015 / 6-9pm
Where: Bancroft St. Market - 2702 S.10th St.

Schedule
Preview Reception begins at 5:30 pm

Talks Begin 7 pm

Winners Announced 8:45 pm
Ten emerging visual artists have four minutes each to wow you with their work. Their inspirations, techniques, backgrounds, and future directions are laid at your feet for your vote in their favor. You are the judge.
Drop your raffle tickets in your favorite artist's bowl, then stand by for a chance to win their featured work. Plus, your vote helps them be a contender for generous prizes. You can also purchase artwork from other presenters.
Admission: $20 (includes five raffle tickets)

Get tickets online or get them at Gallery 72, Connect Gallery, or at the door. Tickets purchased online will be available at will-call the evening of the event.

Your admission helps support scholarships for UNO studio art students. Artists receive the full amount of any art purchases made at Artslam+!
The artists: Adam Dienst-Scott, Cangshu Gran, Kristine Hansen-Cain, Darcy Horn, Courtney Kenny Porto, Reggie LeFlore, Brian Joseph Tait, Mike Trotter, Adam Burke, Travis Apel.